IPM-16120 * IP-based 16-port Metered Power Distribution Unit
COD Produs : 8cipmoip1
La comanda [depozit producator]
Descriere Produs
Denumire produs : IPM-16120 * IP-based 16-port Metered Power Distribution Unit
High Voltage Power Distribution Unit (PDU) with Digital Load Meter
PLANET IPM-16120 is a 16-port IP Power Management device that provides premium power protection for your professional workstations and connected devices. With the innovative IP-based technology, PLANET has made the traditional power management equipment into true networking devices.
Vertical Mounting
By using the IPM-16120, any device can be easily mounted vertically in racks or enclosures and occupies zero U of valuable rack space, which allows more equipment in the rack.
Electric Current Monitored on Display
The aggregate current draw per rack PDU is displayed on the unit via a digital display. The local digital display helps installers avoid overloaded circuits by providing a visible warning when the current draw is close to the maximum amperage draw of the strip.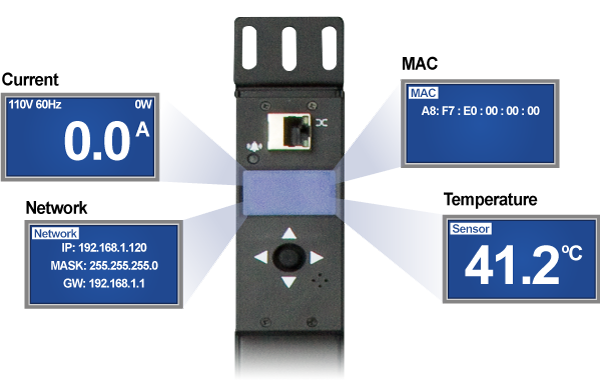 Remote Management Capabilities
Full-featured network management interfaces of the IPM-16120 provide standards-based management via Web, SNMP and Telnet. They allow users to access, configure, and manage units from remote locations to save valuable time.
Overload Protection
The IPM-16120 features a built-in 16-amp circuit breaker and reset switch to prevent dangerous circuit overloads that could damage equipment as well as ensure dependable performance of vital equipment.







Hardware Specifications
Outlet Power Port
16
Inlet Power Port
1
Buzzer
1
Breaker
1 x 16A
Network Connector
1 x RJ45 port for 10/100BASE-TX
Button
Navigation button
LED
Alarm
Lights remaining lit: Alarm has occurred
Slow flashing: There was current overloading
Dimensions (W x D x H)
748 x 43 x 43 mm
Weight
1.7kg
Installation
Zero U
Power Distribution
Voltage
100~240V
Frequency
50~60Hz
Connection
Inlet Power: 1 x IEC320 C20
Outlet Power: 16 x IEC320 C13
Maximum Current
Inlet Power: 16A
Outlet Power: 16A
Maximum Outlet Line Current
10A
Cord Length
3 meters
Inlet Plug Type
EU, US, UK
Management
User Account
General/Manage/Administrator
Management Utility
Web browser, SNMP software, Windows base utility, Telnet
Security
IP filter/MAC filter/Secure 128-bit SSL encryption
Standards Conformance
Computer Interface
IEEE 802.3 10BASE-T
IEEE 802.3u 10/100BASE-TX
Regulatory Compliance
CE, FCC
System Unit
Operating Temperature
-5 ~ 45 degrees C
Operating Humidity
5 ~ 95%
Operating Altitude
0 ~ 4500 meters
Cosul tau
Cosul de cumparaturi este gol
Sunteti sigur ca doriti sa scoateti acest produs din cos?
Da
Nu
Sunteti sigur ca doriti sa scoateti toate produsele din cos?
Stoc epuizat
PRODUSUL BENEFICIAZA DE