CV3P-4 CamViewer Management Software [Professional version]
COD Produs : 8CSNP0002
In stoc furnizor [depozit furnizor si/sau depozit producator]
Descriere Produs
Denumire produs : CV3P-4 CamViewer Management Software [Professional version]






An excellent solution to advanced surveillance needs, PLANET Cam Viewer 3 Pro (CV3P) can manage different IP cameras at the same time in just one central management interface. Providing a state-of-the-art IP surveillance system, this software supports most of PLANET IP cameras and video servers. With the IP devices connected directly to LAN or any TCP/IP network such as the Internet, digital recording of the IP surveillance system can be saved directly on the hard drive(s) of the PC.
Cam Viewer 3 Pro helps users to monitor and record images / videos from multiple cameras simultaneously by using a single PC and able to operate up to 4/8/16/36/64 channels according to the software channel applied. In the surveillance system managed by Cam Viewer 3 Pro, each camera has its own settings for recording, event, trigger, codec, resolution and quality. All the videos in the recording system are sorted by time. It supports cycle recording to rewrite the oldest video in the system and make the recording system work more efficiently.
Cam Viewer 3 Pro supports remote live view with up to 9 channels for each manager monitoring through any internet browser. It enables up to 5 monitors for live view operation simultaneously. The E-Map function supports different locations and supports more Hotlines for event notifications which would be helpful to find the alarm event faster and easier. The monitors also can get better video image quality in image processing.
PLAENT Cam Viewer 3 Pro central management software performs a more reliable and stronger video surveillance system. Not only being a standalone management software, Cam Viewer 3 Pro can also co-work with PLANET series software to build a complete surveillance system. For example, the Central Management System (CMS) allows user to handle the entire surveillance system in one console. With Central Management System application, you can set up a real surveillance management system instead of just a monitoring and report system.
Users can build their surveillance system and apply the Cam Viewer 3 Pro to manage various IP cameras in different environments. Users can manage the IP surveillance system centrally, which enables the monitor images be viewed remotely.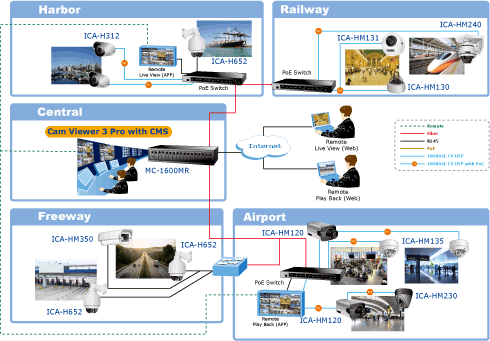 Product
Live View Channel
4 / 8 / 16 / 36 / 64
Monitor Output(s)
5 Monitor
Playback
9 Channel synchronous
E-Map
Unlimited layer
Remote Management
Client AP, IE, CMS
Remote Configuration
V
Remote Live Viewer Channel(s)
16
Compression Format
H.264 / MPEG4 / MJPEG
Intelligent
Motion detection
Object loss
Object counting
Tripwire
Camera tampering
Image enhancement
Foreign objection detection
Alarm
Mail, FTP Server, HTTP Server, TCP Server, Warring Sound, Emergency, Central Server
Counting Function
V
Smart Search
V
Recording Schedule
V
PTZ Config. / Control
V
Two-Way Audio
V
Backup
V
Joystick
V
Multi-Language
V
Cosul tau
Cosul de cumparaturi este gol
Sunteti sigur ca doriti sa scoateti acest produs din cos?
Da
Nu
Sunteti sigur ca doriti sa scoateti toate produsele din cos?
Stoc epuizat
PRODUSUL BENEFICIAZA DE